To assist our client partners in identifying the opportunities and constraints before them, Planning Partners acts to define needs, goals, and regulatory requirements through client and regulatory agency interviews, and rigorous background research. Once we and our partner fully understand the goal of the project, we develop multiple alternative methods of achieving project success and meeting the identified objectives. Upon definition and agreement on alternatives, we evaluate each alternative against multiple environmental, regulatory, feasibility, and financial criteria, as well as effectiveness in meeting project goals, to identify the alternative that best meets the needs of our client.
Project: Apprentice Campus and Training Facilities
Client Type: Institution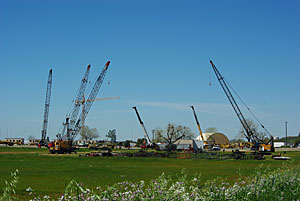 Operating Engineers Union, Local 3 operates a campus and field training area in Sacramento County to train apprentices to operate heavy construction machinery. Education consists of both classroom training and field instruction on equipment. For the field instruction, apprentices construct actual projects such as roadways, building pads, and freeway ramps. Because of urban encroachment, the union is seeking a new location for its training facilities.
Working closely with the union and Amador County, we assisted the union in due diligence during property acquisition, and in screening sectors of a large site to determine those areas best suited for training activities over the long term, using both field evaluation and GIS suitability analyses. Factors considered in the screening included the project objectives and land needs of the union for both a campus and several training areas, and environmental factors such as biological resources, cultural resources, hazards, slope, soil depth, and proximity to adjacent residences. Upon conclusion of the screening evaluation, we worked with the union to develop a unified project description and use permit application for submittal to Amador County. Planning Partners has been retained by Amador County for preparation of an Environmental Impact Report (EIR) on the project.
Project: Plymouth Pipeline
Client Type: City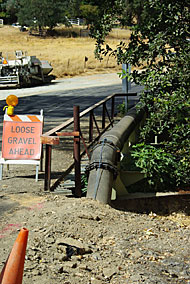 Working closely with the engineering team, we assisted the City of Plymouth, the Amador Water Agency, and USDA Rural Development in the screening of alternatives to deliver potable water to the City of Plymouth. Prior to initiation of this project, the City had relied upon unreliable groundwater sources and untreated water from a gold rush era miner's ditch. Planning Partners prepared a screening analysis of three alternative routes for delivering water from the Amador Water Agency's treatment plant near the City of Sutter Creek over eight miles to connect with the City of Plymouth's existing transmission grid. Criteria used in the screening analysis and project development included constraints related to biological resources, cultural and historic resources, and both natural and human caused hazards from past mining activities and naturally occurring asbestos. Our work assisted the engineering team to develop a feasible, fundable project that minimized environmental effects and the need for extensive permitting from state and federal resource agencies. Upon identification of a preferred project, Planning Partners prepared a joint Environmental Assessment/Environmental Impact Report to secure funding for the project and its construction. The completed project now serves the City and has resulted in the lifting of a water connection moratorium imposed by the California Department of Public Health, Drinking Water Program.
Project: Mānele Small Boat Harbor Ferry Pier Improvements
Client Type: State of Hawai'i
Working closely with the State of Hawai'i, Department of Land and Natural Resources (DLNR), Division of Boating and Ocean Recreation, and following consultation with the Mānele Small Boat Harbor Advisory Group and interested public, we helped identify desired design alternatives and developed the purpose and primary objectives for a ferry pier improvements project on the Island of Lāna'i. We helped refine the identified project alternatives and further identify preliminary issues and information for the environmental analysis during early coordination meetings with the U.S. Army Corps of Engineers, U.S. Environmental Protection Agency, U.S. Fish and Wildlife Service, National Oceanic and Atmospheric Administration, and National Marine Fisheries Service. Through the consultation process, we worked to modify the preferred alternative to avoid potential impacts to marine resources. Through avoidance and minimization of project impacts, the project may qualify for a Categorical Exclusion pursuant to NEPA.