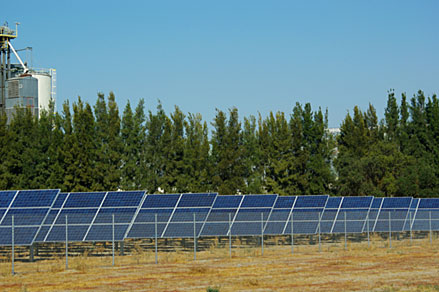 Planning Partners provides a range of services focused on sustainability principles to assist our clients, whether they are a public agency or a business, to manage greenhouse gas (GHG) emissions, reduce their carbon footprint, and achieve higher energy performance. Since 2002, we have been identifying and evaluating programs to minimize GHG emissions and energy use. Our team has combined expertise in environmental and energy analysis, GHG quantification and management, and in applying the leading tools for measuring and verifying green building performance using the U.S. Green Building Council's (USGBC) Leadership in Energy and Environmental Design (LEED) rating systems. We work with our clients to achieve LEED certification for individual buildings and neighborhood developments, assist in the permitting of waste-to-energy facilities, and prepare forward-looking, achievable policies for General Plans and Climate Action Plans. As the debate and regulations surrounding climate change and GHG analysis continue to evolve, we stay abreast of evolving legislation to offer our clients unparalleled services. We are committed to achieving sustainability goals in a cost-effective, implementable fashion while still meeting the requirements of state laws and regulations.
Project: Merced General Plan Update – Climate Change Background Report
Client Type: County
Merced County is located in the heart of the Central Valley, and home to the cities of Merced, Atwater, and Livingston. The County, with a population of approximately 253,471 in 2008 grew by approximately 42 percent from 1990 to 2008. This growth, the need to meet the changing housing, economic, social, and environmental conditions, and the need to establish a new vision for the future is the basis behind updating the County's General Plan. The update would create a blueprint for growth through the year 2030. To kick-start this process, Planning Partners became part of a consultant team assisting the County in the update of 1992 Merced County General Plan, which currently guides their land use, economic, transportation, agriculture, infrastructure, environmental, and policy decisions.
Toward this effort, we have prepared the greenhouse gas emissions inventory and Climate Change Background Report for Merced County. This inventory considered the emission sources from transportation, natural gas, electricity, urban water and wastewater, solid waste, agricultural activities and livestock emissions and carbon sequestration. The baseline inventory was established for 2005 in a spreadsheet model designed to meet Local Governments for Sustainability protocols and to meet the requirements of AB 32. This greenhouse gas inventory model will be used to evaluate the effectiveness of future land use alternatives in reducing greenhouse gas emissions.
Project: Merced County Climate Action Planning
Client: County
To meet AB 32 requirements and evolving standards of General Plan and sustainability planning practice, Planning Partners is assisting Merced County in climate action planning as part of a larger effort to update the County's General Plan. Using previously prepared greenhouse gas (GHG) inventory and emissions forecasts developed in the beginning stages of the General Plan Update, we are proceeding to evaluate and establish GHG emissions targets and reduction goals for various economic sectors. We are drafting policies and an implementation program to meet identified reduction targets. Emissions modeling is evaluating the effectiveness of the reduction potential for each relevant General Plan policy and implementation measure to ensure that targets will be met. We are reporting this information, together with a discussion of expected effects of climate change in the County and any additional needed adaptation measures, in the General Plan and its Environmental Impact Report.