Project: Michael Brasil Dairy Expansion
Client Type: County
Under contract to Merced County, Planning Partners prepared a focused EIR to evaluate the potential effects of substantially expanding the existing Michael Brasil Dairy. Tiered from the Merced County Animal Confinement Ordinance EIR, the environmental analysis concentrated on potential impacts to surface- and groundwater quality, emissions of criteria air pollutants and greenhouse gases, and potential nuisance effects. We characterized existing groundwater quality and modeled conditions with implementation for the project. For air and greenhouse gas emissions we characterized both existing and future emissions, and identified feasible mitigation measures to reduce potential effects.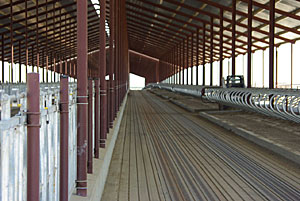 We additionally prepared an Ambient Air Quality Analysis and Health Risk Assessment to the standards of the San Joaquin Valley Air Pollution Control District to aid that agency's review of the dairy expansion. The Michael Brasil Dairy Expansion EIR incorporated the first tier analysis of the Animal Confinement Ordinance EIR, and many potential impacts were subject to previously adopted countywide mitigation programs and policies, thereby reducing the project-specific effects below a significant level. Because the Michael Brasil Dairy EIR focused only on impacts specific to the project, the document was fast-tracked by the County and the EIR process was completed within 9 months of application. The project was not contested by any community or environmental groups, nor was the EIR subject to extensive comment or challenge. The project was approved by Merced County in 2011.
Project: J.S. West Dwight Way Egg Laying and Processing Facility Expansion
Client Type: Private Business
For the J.S. West & Companies and Merced County, Planning Partners prepared an EIR for the expansion of an existing egg ranch in a rural area of the county. The EIR was scoped to evaluate only those effects specific to the project and those cumulative effects to which the project made a considerable contribution. These issues included potential nuisance effects, consistency with Merced County policies for rural, agricultural lands, and air and greenhouse gas emissions. The project was approved with no public controversy and is now in operation.