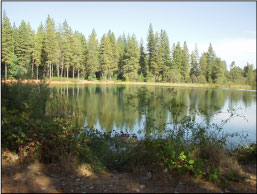 Project: Greenwood Lake Water Treatment Plant and Transmission Pipeline
Client Type: Special District and Federal Agency
On behalf of the Georgetown Divide Public Utility District and the U.S. EPA, Planning Partners assisted in project definition and alternatives analysis to identify a preferred alternative to allow the District to increase the reliability of water deliveries and meet Clean Water Act requirements for drinking water quality in El Dorado County. Upon selection of a preferred water treatment plant project and treated water pipeline alignment, we prepared an EA/EIR in compliance with NEPA and CEQA. Key issues evaluated in the EIR included impacts to sensitive biological resources and habitats, interference with existing recreation uses, the introduction of light, glare, and fugitive operational noise into a rural area, and effects to groundwater recharge. We additionally assisted the District in negotiating a memorandum of understanding with the U.S. Fish & Wildlife Service regarding secondary effects to biological resources arising from the provision of a reliable water supply in the rural service area of the project and compliance with the federal Endangered Species Act by those seeking future connections to the water grid. The environmental documents were certified by the U.S. EPA and the District, and federal funding was released.
Project: Citrus Heights Water District Bonita Way Well
Client Type: Special District
Planning Partners was retained by the Citrus Heights Water District to evaluate the potential environmental effects of drilling and operating a new water supply well on an infill parcel within the City of Citrus Heights. Key issues evaluated in the Initial Study/Mitigated Negative Declaration included the emissions of air pollutants during construction, light and glare effects on adjacent neighbors during project operations, noise levels during both construction and operations, and impacts to visual quality from the siting of a small-scale industrial use in a residential area of the City. The document was certified by the District and relied upon by several responsible agencies with jurisdiction over aspects of the project. The project was approved by all parties and is now operational.
Project: Bayview Street Relief Drain
Client Type: City and County
As requested by the City and County of Honolulu Department of Design and Construction, we prepared a Draft Environmental Assessment pursuant to HRS, Ch. 343 to evaluate the potential environmental effects of replacing a portion of an existing drainage system in Wai'anae on the Leeward side of O'ahu. Key issues evaluated in the Environmental Assessment included the potential impacts to unknown historic or cultural remains, sedimentation and erosion during construction, and land use controls. The project is ongoing.